NCE PH pro R 5Amp system - Requires Power Supply
$1,56000

$1,560.00
Tax included.
Shipping
calculated at checkout.
---
---
NCE PH pro R 5Amp system - Requires Power Supply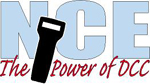 NCE Power Pro 5 amp DCC System
The Power Pro is the most user friendly DCC system on the market. The Pro-Cab walks you through every operation with clearly labeled buttons and well thought out menu prompts in plain English on its back lit LCD display. The most often performed operations usually are just a single key press. Plug in EPROMs allow you to update the system and no need to return the unit to the factory. 
The Power Pro starter set has everything you need to get DCC equipped trains up and running (except power transformer). The Quick Start Guide included in our system reference manual will have you up and running in less than 20 minutes.
Power Pro 5A Specifications:
* Cabs: 60 maximum
* Number of simultaneous trains: 250
* Number of consists: 127 
* Range of locomotive addresses: 0-9999
* Range of consist addresses: 1-127
* Range of accessory addresses: 1-2044
* RS232 computer interface included
* Continuous Output Current: 5 Amps
* Short circuit handling: Auto shutdown [500mS]
* Output voltage: Factory set to 14 Volts [adj 10-24V]
* Power supply: 15VAC, 5Amps @ 60VA [not included with Pro]
Power Supply:
A MRRC TCX-02 power supply [15vAC - 5 amp] is the prefered transformer for your system. If you are using a different transformer ensure that it complies with the NCE specifications for a power supply. Refer "Basic Set Up of 5 amp Power Pro System" at the start of the manual